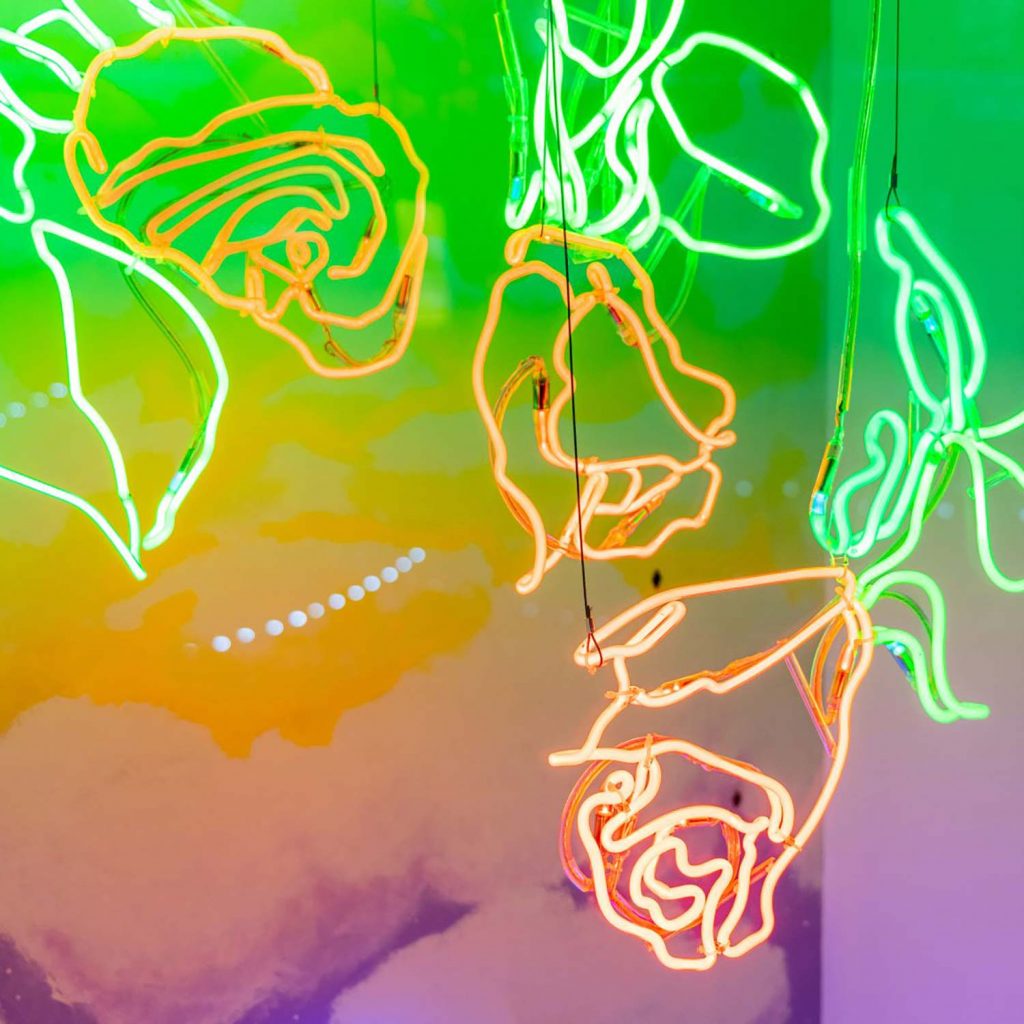 UNCONCEALED BY LETICIA MALDONADO
Feb. 17 - May 15 • 7am to 11pm
View website
Bringing a positive ray of light to the city, UNCONCEALED by Leticia Maldonado illuminates FIGat7th through neon shooting stars, twinkling constellations, an etched moon, a hand painted skyline, and suspended neon roses to create daytime and nighttime window displays.
One window holds a night scene. The centerpiece is El Conejo, a 3-foot diameter etched mirrored moon, with neon light behind it. The background is a painted dark sky with stars and constellations, depicting a scene that can actually be viewed in the northern hemisphere from winter to spring.
The other window holds a daytime scene. The centerpiece, titled Pareidolia, consists of three large red neon roses hung so that each vantage point results in slightly different imagery. A light purple skyline fading into a pale, yellow horizon with clouds is painted in the background. In the twilight, there are twinkling constellations and a shooting neon star.
"In the darkest part of the night, it takes an act of imagination to know that a light is coming. Yet, even in that darkness, the natural world exists in an unseen network of poetry, honesty, elegance, and symbiosis", writes Maldonado. "I invite you to see this secret world with your heart and let it buoy you in knowing that no matter what is happening in the world around you, we always have the choice to treat each other with care. In the web of all living things and the beauty of universes contained therein, pareidolia arises as evidence of our innate desire for connection: a touchstone for all worlds possible, equally planted in stars and clouds; leaves and sunlight."
UNCONCEALED at FIGat7th is free and open to the public as part of the ongoing effort to bring the public spaces of Brookfield Properties to life through music, film, interactive experiences, and visual art. All artworks featured are on loan from the artist and Bermudez Projects, Los Angeles.
Leticia Maldonado is a Los Angeles based multi-media sculptor. Originally from Nevada, she studied at The Art Institute of Las Vegas and later at the Los Angeles Academy of Figurative Art. Using illuminated glass sculpture as a primary medium since 2013, Maldonado works with the smallest diameter glass available to achieve exacting detail in her work.
Middle Level, M2